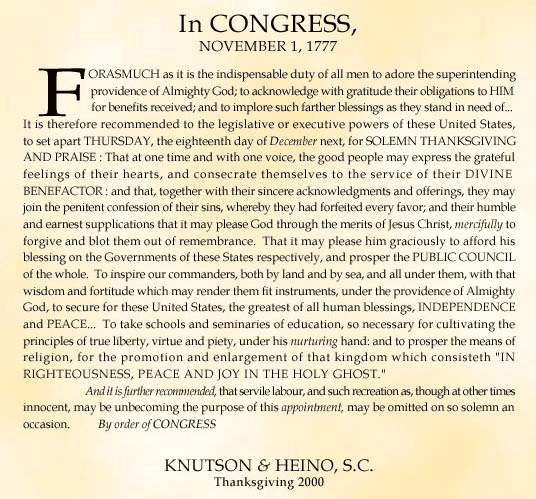 ​
Dear Friends,
Over the past six years that we have been sending a Thanksgiving greeting, our list of office friends has grown from a few hundred to over a thousand! This we count as a blessing. We look forward to this season of giving thanks to express our appreciation to all whom we have had the privilege of serving. Thank you for the opportunities throughout the past year to become better acquainted with you and to help you in times of need.
Our research on Thanksgiving traditions this year led us to the Thanksgiving Square Foundation. With their help, we are able to share with you the first Thanksgiving Proclamation of the new United States of America written by Samuel Adams on October 31, 1777. The Continental Congress commissioned him to prepare a recommendation to the States to set apart a day to give thanks in recognition of recent successes in the fight for independence. The Proclamation set Thursday, December 18, 1777, as the first official Thanksgiving to be observed in the United States. On that day, while marching to their winter quarters at Valley Forge, George Washington and his troops deliberately stopped in open fields, despite bitter weather, to celebrate that first Thanksgiving.
In the last few months, we have all heard how our country has prospered. Candidates and their political parties have taken credit for it. The presidential election has led to much controversy. During these troubled times, Thanksgiving becomes even more important. As John F. Kennedy said in 1962, "Thanksgiving Day has been part of the fabric which has united Americans with their past, with each other, and with the future of all mankind."
Our forefathers' first Thanksgiving Proclamation of 1777 demonstrates that they knew where prosperity truly comes from. We at Knutson & Heino, S.C. hope that this Proclamation, which we invite you to share with a friend, will be a reminder to all that unity, liberty, and prosperity come from His nurturing hand.
Happy Thanksgiving,
The Law Offices of Mark S. Knutson, S.C.