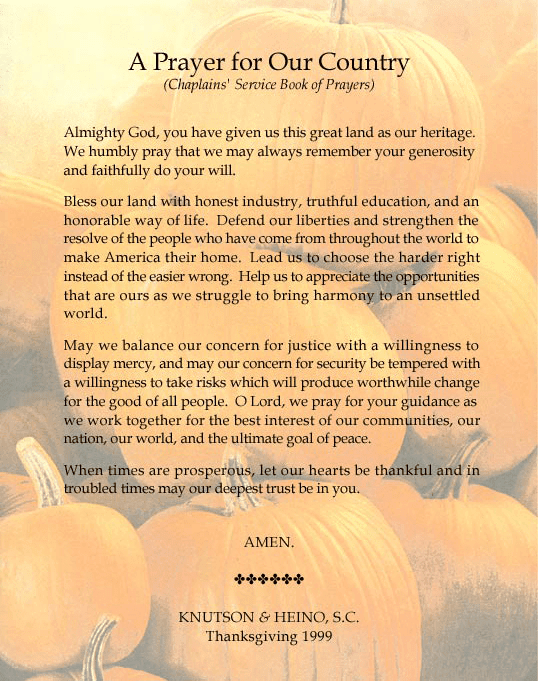 ​
Dear Friends,
Several of you have shared with us that our annual Thanksgiving greeting is becoming a part of the holiday tradition in many of your homes. All of us here greatly appreciate the relationships we have established with you over the last five years, and we are pleased to be able to join you in giving thanks at this time of year. This, the last of the millennium, is our fifth Thanksgiving letter!
Many among us await the year 2000 with eager anticipation, while others are cautiously anxious or even troubled by the momentous date. We all wonder, "What does the millennium hold?" The question is often asked, "Are you prepared?"
Nearly two millennia ago, Jesus Christ instructed us how to respond to the question, "Are you prepared?" At the Last Supper, He told his followers, "Do not let your hearts be troubled. Trust in God; trust also in me." John 14:1. This truth has provided comfort and strength to millions of people over the centuries and, in fact, became a guiding principle of our nation when "In God, We Trust" was adopted as the national motto of the United States in 1956.
We at Knutson & Heino, S.C., are prepared to serve our clients at the important times in their lives when occasions requiring legal assistance arise. By joining with Attorney Joe Heino last February, we can now provide an even broader range of legal services to serve our friends and clients.
This year we send you "A Prayer For Our Country" from the Chaplains' Service Book of Prayers. It is based upon the trust that we should have in the One who holds tomorrow, although we may not know what tomorrow holds for us. We have included an extra copy of the prayer for you to pass on to a friend.
Happy Thanksgiving,
The Law Offices of Mark S. Knutson, S.C.