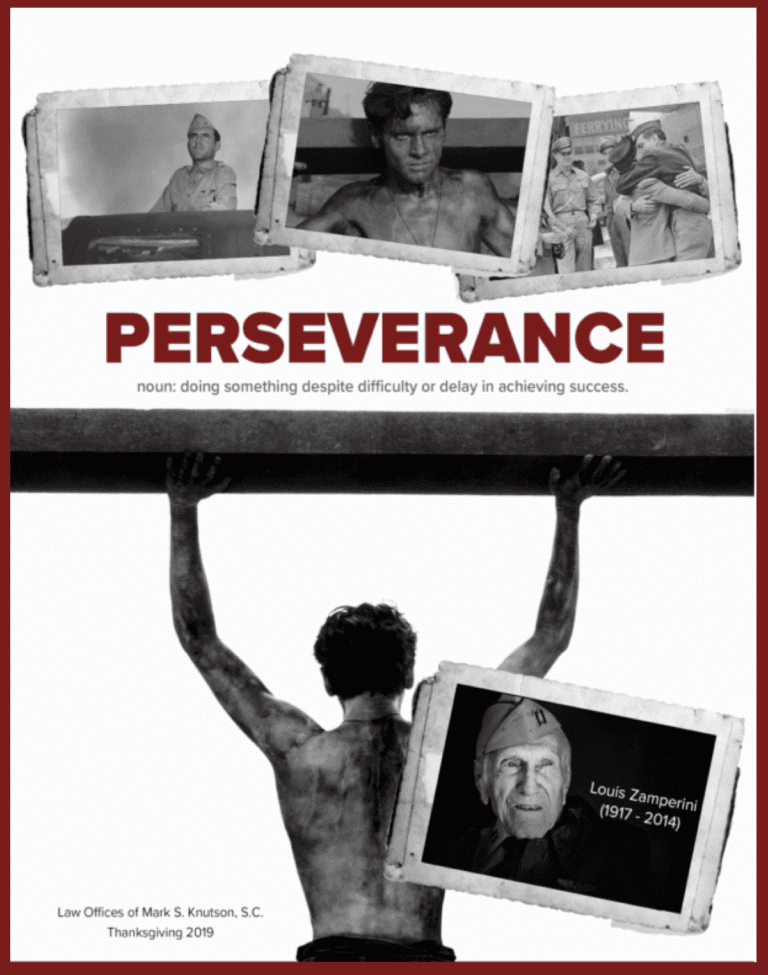 ​
Dear Friends,
What is the purpose and reward of perseverance when hard times enter our lives? An American prisoner of war's remarkable story of tenacity and resolve in the face of extreme adversity may help us answer that question.
Growing up in Torrance, California, Louis "Louie" Zamperini was an incorrigible delinquent. As a teenager, he channeled his defiance into running, displaying a prodigious talent that carried him to the Olympics. Known as the "Torrance Tornado," he was the youngest member ever of the U.S. Olympic track team. Finding himself up against world-class runners at the 1936 Berlin Olympics, he fell far behind. But Louie would not give up. Summoning all his energy, he exploded with a burst of speed that set a world record for the final lap to finish 8th in the 5000-meter race. The applause was deafening. Even Hitler was forced to personally congratulate him. Overnight, he became a national hero.
His rise to stardom was cut short by the outbreak of World War II. In September 1942, nine months after the attack on Pearl Harbor, he became a bombardier in the Army Air Corps. While stationed in Hawaii, he was sent out on a dangerous search-and-rescue mission over the Pacific in a plane that had been routinely scavenged for spare parts. Tragically, the engines failed and the airplane crashed at sea, killing all but three crew members. Initially knocked unconscious, Louie miraculously floated to the surface where he found the two other surviving crew members.
Driven to the limits of endurance and true to his resilient spirit, Louie persevered. This ordeal, chronicled in Laura Hillenbrand's book Unbroken, and portrayed in Angelina Jolie's movie of the same name, lasted 47 days. On a life raft, he survived by eating raw fish and drinking rainwater while fending off sharks. During a ferocious storm at sea, he cried out to heaven, vowing that if he survived his dire circumstances, he would dedicate his life to God.
After drifting some 2,000 miles at sea, he and his sole remaining crew member, emaciated and weak, were captured by the crew of a Japanese boat. Although initially they were treated with basic decency, soon they were sent to Kwajalein Atoll, a camp known as "Execution Island." It was notorious for interrogating prisoners of war and then summarily executing them. Meanwhile, back home, Louie's family received word that he was presumed dead at sea. President Franklin Roosevelt sent his parents a personal letter of condolence. Yet, Zamperini was far from finished.
Despite being confined in a small cell, subjected to brutal interrogations, and injected with experimental drugs, he refused to give up. On the day he was scheduled for execution, his captors decided to spare his life due to his Olympic notoriety, so they could use him to make propaganda broadcasts. But Louie refused to cooperate. To punish him for this, they sent him to an even more brutal POW camp.
Zamperini remained defiant, which caught the attention of one particularly sadistic guard, Mutsuhiro Wantanabe, nicknamed "the Bird." So began months of relentless beatings, torture, and psychological abuse. His crushing trials came to a climax one day when "the Bird" ordered him to hoist and hold a heavy wooden beam above his head. The guards were instructed to shoot him if he dropped it. Again, finding strength not his own, he held the beam high over his head for 37 minutes! "The Bird" was totally humiliated.
Not long afterward, the prisoners all heard and saw a huge, low-flying torpedo bomber headed straight toward them. The plane's red code light was blinking rapidly. A POW radioman read the signals and cried out, "The war is over!" Then, an American plane flew by, dropping cigarettes and chocolates.
Louie Zamperini returned to America as a hero. He met and soon married a beautiful debutante named Cynthia Applegate. Though his hellish trial had ended in the Pacific, a battle continued to rage within his heart and mind. "Because of 'the Bird,' I had nightmares," he remembered. "I couldn't get rid of them. I had them every night. So I began to drink."
On the verge of divorce, Cynthia convinced him to go with her to a Billy Graham crusade. On the second night, Billy Graham's words pierced his soul. "(He) stabbed me in the heart. God had kept His promise to help me survive the war. I knew I had not kept mine." That night, Louie underwent a profound change. "I knew I had forgiven all my guards," he said, 'including the Bird.' That was the first night in all those years I did not have a nightmare, and I have never had one since."
His strong and immediate faith gave him a new sense of purpose: forgiveness. Within a year, Zamperini's spiritual transformation led him to return to Japan and personally forgive his captors. In a dramatic scene at Nagano Prison, a facility that housed 850 of the most notorious war criminals, Louie spoke and extended his heartfelt pardon for his tormentors. He later recalled that his forgiveness was total. At age 81, Louie went on to carry the Olympic Torch in Nagano, Japan.
Louie Zamperini's life is a lesson for us all. We will face extreme pressure and adversity at times. The desire to give up and give in can be overwhelming. We may believe hope is gone and our cause is all but lost. That's the precise moment when perseverance and faith make all the difference.
So as we approach this Thanksgiving season, let us give thanks for the strength, resolve, and purpose to persevere that God gives us in our hour of need. As the New Testament reminds us:
"Consider it pure joy, my brothers and sisters, whenever you face trials of many kinds because you know that the testing of your faith produces perseverance. Let perseverance finish its work so that you may be mature and complete, not lacking anything." (James 1:2-4 NIV)
Happy Thanksgiving
The Law Offices of Mark S. Knutson, S.C.
To learn more about Louie Zamperini's story, click the image below
to watch the official movie trailer for Unbroken.